Household items.

Stasher Re-Usable Bags


I found Stasher bags through GurlGoneGreen.com in the back of Dirty Genes, written by Dr. Ben Lynch and am HOOKED! I am forever changed and can't go back to old ways of plastic baggies. These non-toxic, reusable sacks come in different size so you can store what you need when you need it.

The clear is wonderful to have when storing veggies to see when they start to turn, but as you can see, I have many colors! I simply can't rave enough about Stasher reusable silicone bags.

I truely stand behind supporting this company because they believe in lessening the use of single-use plastics. Way to go

Stasher

!

Lessen your use of single use bags and join in the plastic free movement today!
VitamiX Blender - Life Changer


Another vital piece of equipment in my kitchen is a VitamiX blender. I use it daily, sometimes multiple times a day!

I love mine and highly recommend owning a VitamiX blender! A morning smoothie has been a way for me receive adequate amounts of daily nutrients needed to live my best. It is easy to clean and simple to use with enough power to puree carrots smoothly.

I found mine on amazon and have had no issues with it. Works like a wonder, makes the smoothest smoothies, delicious bisque soups and sorbets! I can't express enough how much I use my VitamiX and the health benefits I get from the meals that I create with it!
When VitamiX blends your food down to a small size it makes the nutrients readily available for your body to absorb - that's super terrific! Get all the nutrients you eat when you eat them!

Have you heard the saying, "Chew your water and drink your food"? That is pretty much saying that what you end up swallowing is, essentially, a mashed food puree.
Have you ever watched others eat, or noticed how much you chew your food up? I can tell you, I have, and it is normally not that mashed when swallowing the bite.
Let the VitamiX do all the work and blend you amazing soups packed full of nutrients and liquefy smoothies full of fruits and veggies that will increase your quality of living!
Happy eating!


Vitamix E310 Explorian Blender, Professional-Grade, 48 oz. Container, Black
Bathroom Supplies.

---
Mineral Sunblock


This sunblock stands the test! Sunblock is a way of healthy living. The sun's UV rays will do damage to the skin if exposed for too long, especially for a gal with Scottish heritage!

The skin is your largest organ that breathes and can absorb substances. I try to be aware of the skin products I out on my skin and eliminate using harmful toxins such as oxybenzone, octinoxate, homosalate, and/or titanium dioxide.

I like being 'sun smart' and wear this organic sun block because it has little to no toxins, it doesn't run into my eyes and it covers nicely, while staying put during activities and adventures!

Organic Tampons - Best Choice!

One of the most vulnerable, sensitive and highly absorbent areas of the female body, the vagina. Why wouldn't you use organic, right? Organic tampons should be the only thing available on the market personally. The less toxins you expose your body too, the less likely you will have disruption in your hormones. [

soucre

]

I switched to organic tampons a few years back and have felt less discomfortable ever since. There is a solid piece of mind that comes with using organic tampons.

I have tried many different organic brands because I was so intrigued to see how they compare.

So far, the Natracare cotton tampons below, are my favorite. Hands down!

I love the three pack as well, so there is no need to run to the store if a sudden menstrual cycle should begin.
Body Care.

Back Roller - Selfcare must have

I torn my MCL a few years back where I had to start PT, physical therapy, to rehab it. Some of the exercises included rolling out my IT band. At first it was so tight and excruciating, which meant that was a spot to pause and deepen the pressure, that I thought it was self torture. However within a few days of repeated stretching and rolling my IT bank had loosen up and was freeing up my other leg muscles to work properly.

The roller I was using was a simple, hard foam. A great place to start rolling.

Once I started rolling my legs out, I looked for other exercises to use with the leg roller. I found this fantastic back postures that help me loosen up in the mornings and feel energized for the day!

It has become an essential part to my holistic routine care!

Helpful Items.

Worry Less

THINK LESS STRESS
I could not get by without lavender essential oil. It is a calming scent which also has antimicrobial properties.

Himalayan Salt Lamp. Enfuse your den with negative charged particles. THe relaxing light adds to a calming mood.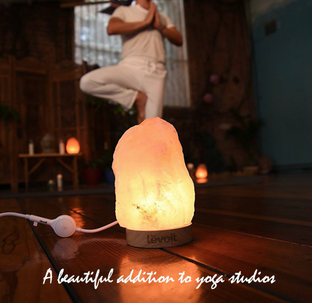 Practing Midnfulness book has 75 meditation practices. Keeping an open mind is healthy and I like to get ideas for meditation through books.